Stay on Trend with Window Tint
Are you a business owner concerned about energy savings? What about a homeowner who can't stand to watch your heating and cooling bills skyrocket? The expense associated with energy is at the heart of demand for window tint.
Window tint, whether it be in a commercial or residential application, reduces energy costs. It also improves comfort, adds safety, reduces glare, protects interior furnishings, and enhances the aesthetic appeal of your building. In this blog post, we provide statistics and data so you stay up to date on window tint trends and can make the most of these benefits.
Window Film Market Size
In 2021, Grand View Research conducted a global window film survey projecting the industry over the next decade from 2020 through 2030. Results showed that the market size was estimated at $10.59 billion in U.S. dollars in 2020, and it's projected to grow at a compound annual rate of 5.2%. The report included this chart that breaks sales down into the four main window film categories: sun control, decorative, security and safety, and privacy.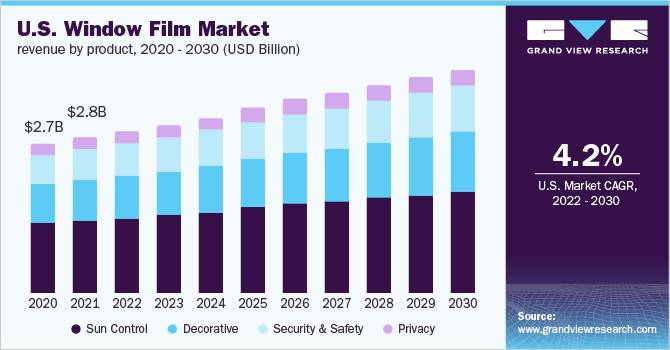 Drivers for the Future
A few factors are credited for the projected growth. First, it's expected that the category of sun control will top sales of window films in the next 10 years. This segment accounted for more than 46% of the global window film revenue in 2021. The report cited those improvements in window films accounts for reduction in solar heat gain and winter heat loss in both commercial and residential buildings.
Second, the focus on green building construction and net zero energy buildings means that more contractors will look to incorporate window films into their designs and architectural plans. Both of these specifications make up the larger concept of Building Energy Management Systems that all builders must consider regularly.
Additionally, increased consumer awareness about sustainability and the environment will keep leading buyers down the window film route. This is especially true if plans for cost savings are involved. According to the report, replacing Low-E glass (low emissivity glass has a microscopically thin metallic oxide coating) with window film provides 6.6 times greater energy and cost savings.
Learn more by requesting the report.
Get Your Free Quote Today!
It's apparent that window film isn't going away anytime soon. In fact, saving money and helping the environment appear to be propelling this industry into the future. Do you want to know what window film for your home or commercial building will cost? Call the experts in both commercial and residential window film application, KC Window Film, to request a free quote today. Don't wait any longer to realize the many benefits of window film!